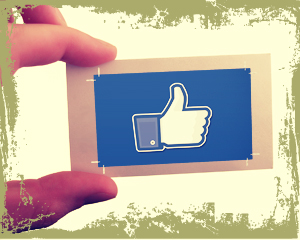 Right as I was in the middle of watching the Dollar Shave Club promotional video on YouTube for the 153rd time I got a call from a client needing some creative ideas.
"Creative ideas?" I asked.  "Sorry… I'm fresh out."
After what I'm sure was a totally fake and forced laugh at my super-lame attempt at humor, we got down to brass tacks.  As it turned out, this organization was looking to capitalize on a recent increase in traffic to their clinic (they operate in the medical & health industry).  Their plan was to promote their Facebook page to patients in the form of hand-out business cards and wanted to know if I could help with ideas.
As I got to thinking about it, my first reaction was to something like "You can try it, but don't hold your breath."  I mean, the traditional business card doesn't really get me that excited to run to a website and become a fan.  Sure… patients might politely take a card if asked but most likely throw it into the deep abyss they call a purse.  Or the guys in the room will use it to jot down their grocery list on the back so they don't forget to buy a box of Oreo Double Stuff on the way home (you know, the ones with twice the amount of yummy frosting).
You see, to me, handing someone a card that asks for their Like on Facebook is the same as walking the sidewalk with a sandwich board and handing out flyers for the corner deli's meal deal.  You might snag a few hungry customers that day but chances are their immediate need for sustenance probably would have brought them in anyway.
So a typical business card with the Facebook logo and a cool thumbs-up "Like Us" message will probably create some new awareness for your page and entice some of those people to become new fans.  But when thinking in terms of really pushing the needle, I would think in terms of adding some fun and real value into whatever collateral you're handing out.
The old "What's in it for me?" adage really applies here.  Thinking in terms of what might possibly excite or motivate someone to like your Facebook page from seeing it on a business card, I urge you not to only think outside of the box… but remove the box entirely.
So here goes.  Here were some of the ideas I offered my client that day:
IDEA #1 – Make the Card a Resource
Since this client is in the health industry, perhaps their card has a "Calorie Converter" list on one side.  They could include helpful references like…
Walking for 15 minutes = 200 calories burned
Climbing two sets of stairs instead of the elevator = 46 calories burned
Using skim milk in your coffee instead of whole milk = 26 calories saved
Picking up this card = 5 calories burned
I don't presume to know the specifics of what's valuable information for your clients, but the idea is to produce something that gets people hanging onto your card for a longer period of time.  By adding some interesting and helpful tidbits of information, your card becomes much more than just an outward plea to just "Like Us!"
IDEA #2 – Make their kids happy and parents will LOVE you!
Dentists and pediatricians have had this one right for years!  I mean, can you name a single dental office you've ever visited that didn't have some sort of treasure chest filled with goodies for the kids upon completion of a successful trip to the doctor?  And anyone with kids will tell you that children just LOVE stickers.  So what if on one side of the card you have a peel off sticker of a butterfly or a monster truck or any others you can imagine.  Now on the other side of the card it says "Like Us on Facebook for more ideas on keeping your kids happy."  C'mon… if you were the parent in this situation don't you think you'd appreciate this one enough to at least check out the page online?
IDEA #3 – Couponing? Yep… it still works!
What if you partnered with another local business to offer a coupon for their services on one side of your card and the "Like Us on Facebook" message on the other?  Places like restaurants, car washes, pizza delivery and bowling alleys are always offering coupons anyway.  Partnering with you probably wouldn't be that difficult  to say yes to.  You could even print multiple variations so you have a selection of different options for your individual customers to choose from.  Your front desk or check out staff could offer this at the end of the transaction which provides a perfectly appropriate time to remind clients about your Facebook page.  It's win-win.  The partnering businesses would benefit from a little extra promotion and some new customers in the door while your business gets to beef up your Facebook business card with some added value.
IDEAS #4 – Give your cards some shape
What if you constructed the cards in a uniquely different shape or style?  I found this page filled with examples to get your creative juices flowing.  Sure, these types of cards are a lot more expensive than regular business cards but someone once reminded me that "It's only expensive if it doesn't work."  Meaning… if you spend 3-times more on a creative business card that converts 5-times more clients to fans… isn't it worth it?
IDEA #5 – The "Not-So-Transparent Bribe" approach
Generally speaking, what if you started choosing a random Facebook "Fan of the Month" and rewarded people with gift certificates to your business or other valuable rewards.  You wouldn't be breaking any Facebook rules or guidelines because you're not requiring people to like your page in exchange for "entering a contest."  You're simply choosing random fans each month and honoring them with rewards and gifts.  NOW… on your business cards, you can say things like "Like us on Facebook ~ we give away free gift certificates to our fans every month."  Think about it.  If you picked up a card like that you'd probably be a little more motivated to become a fan knowing that you might be the next person to receive a gift certificate.  Or to make it even simpler, just offer "Facebook-exclusive" discounts or deals to your fans.  Then promote this fact on your business card and remind customers that the best way to access these special offers is to follow you on Facebook.  I'd say that this pretty much answers the "What's in it for me" question, wouldn't you?
—————-
So this list includes just 5 ideas for you take and expand on for your own business.  And I'm sure there are 50 or more we could list here.  So go ahead, Speak Your Mind below and share your most interesting ideas for using your offline collateral to promote your business fan page.  And to get weekly insights delivered to your inbox, please consider subscribing to my blog.