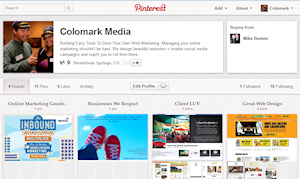 What is Pinterest?
Social network allowing users to visually curate, share & discover interests by posting images & video
Can upload from your computer or 'pin' things you find on the web
Can "like," "repin" or "comment" on items other users have pinned
Members are encouraged to interact with content by reposting it, sharing it on Facebook & Twitter, emailing it and embedding pins to your website
Why does Pinterest Matter?
Drives traffic to your site

.  A lot of recent reports show that Pinterest has the capacity to send your site more visitors than other social media sites, including Facebook

Links

.  By using the "Pin It" button on your website, the content from your site that gets pinned by users creates a link back to the source (i.e. you site).  This allows users to more easily find your website with a single click.

Leads

.  Pinterest creates lead generation through online exposure.

Social sharing

.  Pinterest is linked to Facebook, Twitter and email via easy "share" mechanisms which expand a user's reach to multiple social networks.

Setting Up Your Business Account:  Under the "Settings" tab…
Set up name as your business name
Add logo
Use the "About" section thoughtfully ~ has an SEO benefit!
Make sure to turn "Hide your Pinterest profile from search engines" turned OFF
 Add your other social networks
How to Begin Building a Following:
Create the best boards on a specific topic

Make it a fantastic resource based on a few keywords you're already targeting
Be ready to promote other users' to enhance your collection

Promote your boards through other channels

Add Pinterest "follow" and "pin it" buttons to your website
Promote your pins and boards on other social networks including Facebook

Engage with other users

Follow users you feel you'd want to have follow you back
What to Pin When Using Pinterest for Marketing:
Visual content you already have (event photos, fundraisers, management & staff, etc.)
Visual content from your blog articles (begin pinning blog photos to your Pinterest boards)
Infographics and Data Charts.
Your company's videos on YouTube
Tips to Optimize Your Pins
Change the links in your pins to go where you want them to go

Even if re-pinning from another source
After pinning, choose "Edit" and update the link

Use keywords in your captions

Using the "#" will make your keywords searchable

Give users something to pin!

Infographics work incredibly well for this

Use TALL images when possible

Take up more real estate on the screen and stand out

Pin useful and educational information

Make your boards a resource

Use visual content to drive people to your blog

Use headlines and descriptions such as "How To…"

Add links to the descriptions of your pins

Pinterest will automatically BOLD these

Create a video gallery

End up in the "video" category in addition to just your boards
Some Brand Using Pinterest Effectively
Chobani~ Yogurt

Features not only products, but recipes & nutrition information as well
Photos from their presence around the world
"We Would Like To Eat With You" board features photos of spoons
Oreck~ Vacuum and Cleaning

Create boards that are interactive and not just about their products
Subtle reminders about typical cleaning situations without becoming an advertisement
Mashable~ Digital Culture News

Heavy use of infographics (great resource for others to use)
Fun, "nerdy" boards make the company seem very personable
Etsy~ Online Shopping Website

Boards created for shopping categories on site (i.e. jewelry, fashion, kids, etc.)
Gives customers shopping ideas & helpful options